Joyce Mchoyiya is a mentee in the SA Olives mentorship programme working at Waverley Hills.  She is a Xhosa speaking person., who also understands Afrikaans.
She uses her Free to Grow: Life skills book stories to learn herself to start reading Afrikaans.  The same book she also uses to learn to write Afrikaans, by copying out of this book.
What makes this achievement more extraordinary is that she is really illiterate in reading and writing Xhosa.
Here is a photo of Joyce.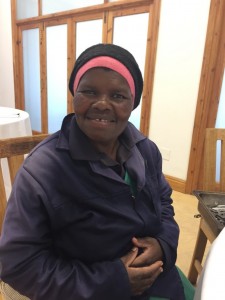 Ivan Geduld also a mentee in the SA Olives program and working at Waverley Hills started to manage his money in a better way.  He showed me the form in the Money Sense book where he wants to list his expenses.  He also brought all his slips of things that he has bought.  This he is going to paste in a book to keep record of his expenses.  His municipality account that is in arrear, he has also took control over and has nearly settled the account.  A loan at Capitec bank he is going to settle in October 2017 and is then going to start saving the amount.
This is 2 stories of people that want to improve their lives and where development programmes, in this case Free to Grow programmes, helped and motivated them to do it.
http://anidatraining.co.za/wp-content/uploads/2017/05/1-1.jpg
1086
815
admin
http://anidatraining.co.za/wp-content/uploads/2018/11/Anida-Training-Logo.png
admin
2017-05-10 10:08:30
2018-11-30 12:09:13
Development that just amazes!